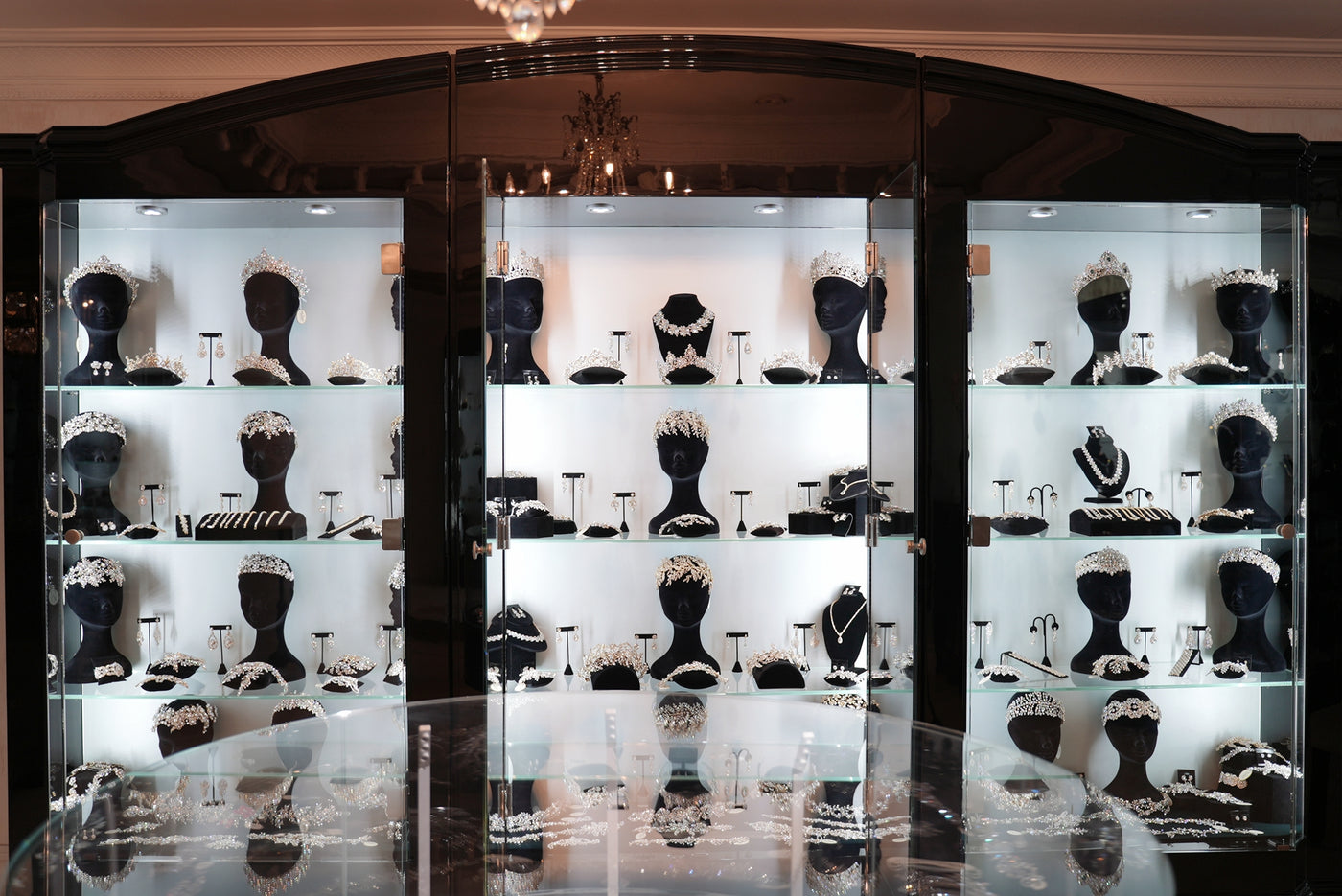 What would you like to know about us?
Our website shows only a part of our collection. In our showroom, we have hundreds of samples on display in all different styles and price ranges. To view the complete collection, please visit our New York boutique.
The headpieces are made to order and generally take anywhere from 2 to about 10 weeks to produce, depending on the piece. Please keep in mind that you will need your piece for your hair trials, so place the order earlier to avoid any unnecessary stress.
We will always do our best to accommodate your timeframe. If your event is very soon, please get in touch with us, let us know which piece you were interested in, and we will let you know if it can be available sooner.
Each of our headpieces are packaged and shipped out in our custom designed signature boxes.
Once the piece is shipped, it usually arrives within the week. International order can take longer to arrive.
All packages are shipped with a tracking number and a signature confirmation. You will receive the tracking number in your shipment confirmation email. You should be able to track your order easily so you know when to expect its arrival. If you need assistance tracking your order, you can contact us and we will be happy to look into it for you.
We do ship worldwide. Shipping options are available during checkout. Unfortunately, it is difficult to predict shipping times for international orders due to possible delays in customs. Typically, international shipping takes 5-14 days but may take longer. When ordering internationally, please order well in advance or contact us for expedited shipping.
Customs policies and import duties vary widely from country to country. We have no control over these charges and cannot confirm if there will be a customs charge and what the cost would be. Customs, duties, and taxes are not included in the shipping fee and are the responsibility of the International buyer. We recommend that you contact your local customs office for current charges before you order to avoid any unforeseen charges.
Due to the nature of the merchandise, all of our items are final sale and cannot be returned or exchanged. We take great care to ensure that all items listed are photographed well and described as accurately as possible to show the intricate details of each piece. If there is anything else you would like to know about a particular piece, you are welcome to contact us.
We take great pride in our work and take every precaution when shipping them. Our pieces are inspected and packaged well to insure that they arrive safely to you. We do understand that sometimes things happen that are out of our control. If your order arrives damaged, please contact us immediately and we will be happy to replace the damaged piece, as soon as possible.
Questions about visiting boutique
Our flagship boutique is located at 905 Avenue U in Brooklyn, New York
We do not have a parking area, but there is usually ample metered parking in front of our boutique or free parking on the side streets.
In order to give you the full attention of our knowledgable and experienced consultants, appointments are requested. We will try to accomodate walk-ins, when possible, but the brides with appointments will receive priority.
You can make an appointment ...BOOK YOUR APPOINMENT or call (718) 339-3222
Appointments are 60- 90 minutes. That is usually more than enough time to try on multiple headpieces and narrow down your selection without feeling rushed.
Most of our pieces take anywhere from 2- 10 weeks for production. In our boutique, we have collections that are not avaible online and do take longer to be made. Once you place an order for the dress, we recommend you make an appointment to visit our boutique and start looking for your accessories.
You can bring pictures of your gown, hairstyle ideas and any inspiration photos of accessories that you may have liked. You are welcome to take a look through our website or Instagram page for ideas. It is instagram.com/BridalStylesBoutique. The day of your appointment, we encourage you to wear makeup and a white top to give you a better idea.
We recommend bringing 1-2 family members or friends whose opinions you trust and value the most. Bridal shopping is a lot of fun, but it can get overwhelming and stressful when a bride is considering the opinions of too many people.
We accept Visa, MasterCard, American Express and Discover cards, as well as cash, debit cards, and personal checks. The personal checks are only accepted for deposits, not for final payment.
We understand that things can come up and you might not be able to make your appointment. We just ask that you please give us at least 24 hours notice if you need to change or cancel your appointment. This will allow us to make the appointment time available to others.